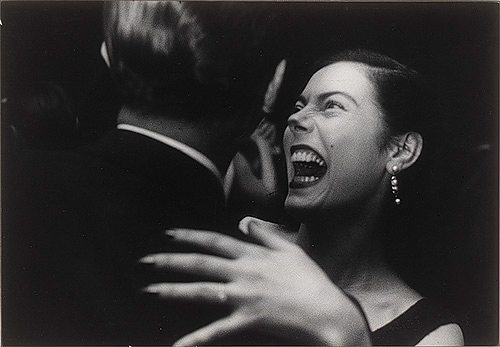 Nuevos documentos/New Documents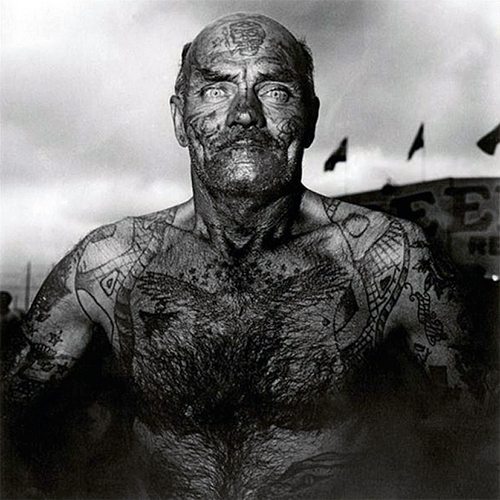 Habiendo echado un vistazo a la exposición El ojo del fotógrafo de 1964, comisariada por el entonces nuevo director del Departamento de Fotografía del Museo de Arte Moderno en Nueva York, el joven y brillante John Szarkowski, vamos a dedicar un poco de atención a su muestra Nuevos Documentos de 1967, en el que presenta los fotógrafos contemporáneos que él desea aclamar sobre la base de una visión compartida del medio.
Having taken a glimpse at the 1964 show The Photographer's Eye, curated by the then new director of the Photography Department at the Museum of Modern Art in New York, the young and brilliant John Szarkowski, let us now devote some attention to his 1967 show New Documents, in which he presents the contemporary photographers he wishes to champion on the basis of a shared vision of the medium.
Exhibir las obras de Diane Arbus, Lee Friedlander y Garry Winogrand fue un paso revolucionario hacia una nueva estética fotográfica: un estilo introspectivo de documental que ya no parecía al de la década 1930 caracterizado por proyectos de reforma social y cambio político.  Estos nuevos fotógrafos tomaron fotos con el fin de entender el medio, así como el mundo. Como Szarkowski escribe en la introducción de la exposición: "Su objetivo no ha sido enderezar la vida, sino conocerla. Su obra desvela una compasión, prácticamente un cariño, hacia las imperfecciones y fragilidades de la sociedad. Le gusta el mundo real, a pesar de sus terrores, como fuente de toda maravilla, fascinación y valor –no por irracional, menos valioso."
Exhibiting the works of Diane Arbus, Lee Friedlander and Garry Winogrand was a revolutionary step towards a new photographic aesthetic: an introspective style of documentary that no longer echoed that of the 1930s which was concerned with projects of social reform and political change. These new photographers took pictures in order to understand the medium as well as the world. As Szarkowski writes in his introduction to the exhibition, "Their aim has been not to reform life, but to know it. Their work betrays a sympathy – almost an affection – for the imperfections and the frailties of society. They like the real world, in spite of its terrors, as the source of all wonder and fascination and value – no less precious for being irrational."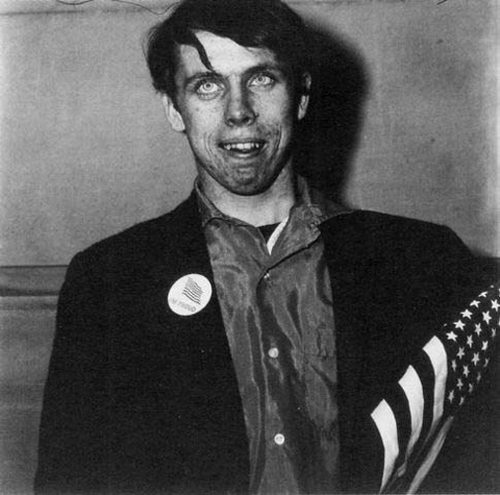 Diane Arbus nació en la ciudad de Nueva York en 1923, hija de padres judíos ricos, los cuales fueron capaces de proteger a sus niños de la Gran Depresión. Al parecer el rasgo artístico era bastante destacado en la familia puesto que los dos hermanos de Diane eligieron carreras de arte y del mundo literario.
Diane Arbus was born in New York City in 1923 to a wealthy Jewish couple who were able to shelter their children from the Great Depression. The artistic trait seems to have been strong in the family since both of Diane's siblings chose careers in the art and literary world.
Diane y su esposo Allan Arbus empezaron un negocio de fotografía comercial en 1946 trabajando sobre todo para las revistas de moda. El cambio significativo en el estilo de Arbus se produjo después de abandonar el negocio y estudiar fotografía con Lisette Model en 1956.
Diane and her husband Allan Arbus started a commercial photography business in 1946 working mostly for fashion magazines. The significant change in her style occurred after she decided to abandon the business and learn photography with Lisette Model in 1956.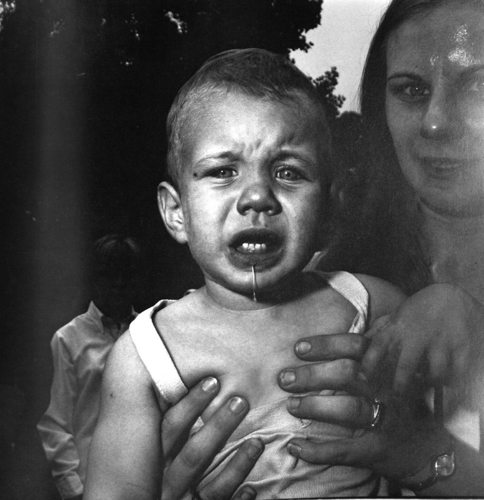 Establecer relaciones a largo plazo con sus modelos – a menudo durante muchos años – era esencial para Arbus. Su tema preferido trataba normalmente de personas marginadas o con discapacidad mental.
Establishing long-term relationships with her subjects – often over many years – was essential for Arbus. Her preferred subject matter was typically marginalized or mentally disabled people.
Fue en la exposición Nevos Documents de 1967, cuando sus proyectos fotográficos privados ganaron prominencia y su fama como artista empezó.
It was in the 1967 show New Documents that her private photographic projects gained prominence and her fame as an artist took off.
Arbus se quitó la vida en 1971, a la edad de 48 años, como consecuencia de uno de los muchos episodios de depresión que habían producido graves problemas en su vida adulta.
Arbus took her own life in 1971, at the age of 48, as a result of one of the many episodes of depression that had marred her later life. 
    "Una fotografía es un secreto sobre un secreto, cuanto más te cuenta menos sabes." Diane Arbus
"A picture is a secret about a secret, the more it tells you the less you know." Diane Arbus
«Si uno examina la realidad lo suficientemente cerca, si realmente de alguna manera, llega realmente a ella; será fantástico.» Diane Arbus
 "If you scrutinize reality closely enough, if in some way you really, really get to it; it is fantastic." Diane Arbus
«Realmente creo que hay cosas que nadie vería si yo no las fotografíase.» Diane Arbus
"I really believe there are things nobody would see if I didn't photograph them." Diane Arbus
«La mayoría de la gente va por la vida temiendo que tendrá una experiencia traumática. Monstruos  nacieron con su trauma. Han pasado ya su prueba en la vida. Ellos son aristócratas.» Diane Arbus
 "Most people go through life dreading they'll have a traumatic experience. Freaks were born with their trauma. They've already passed their test in life. They're aristocrats." Diane Arbus
"Ves a alguien en la calle, y lo que aprecias sobre todo es el defecto." Diane Arbus
«You see someone on the street, and essentially what you notice about them is the flaw." Diane Arbus
Nació en Aberdeen, en el estado de Washington en 1934. Se interesó en la fotografía a la edad de catorce años, y más tarde se matriculó en el Centro de la Escuela de Arte de Los Ángeles, pero no terminó sus estudios.
Lee Friedlander was born in Aberdeen in Washington State in 1934. He became interested in photography in at the age of fourteen, and later enrolled in the Art Centre School in Los Angeles, but did not finish his studies.
Se trasladó a la ciudad de Nueva York en 1956, donde comenzó a trabajar como fotógrafo independiente y se hizo amigo de los fotógrafos contemporáneos destacados que influyeron en gran medida en su visión fotográfica.
Friedlander moved to New York City in 1956, where he started working as a freelance photographer and made friends with prominent contemporary photographers who greatly influenced his photographic vision.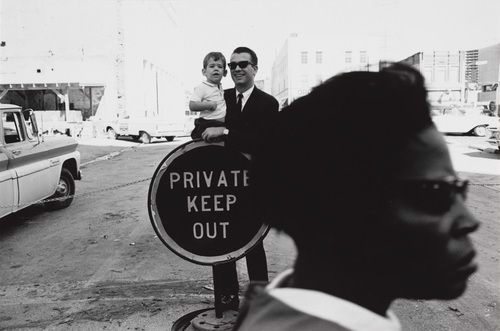 Su fotografía destaca principalmente por el "paisaje social urbano", con un enfoque especial en la vida moderna que está plagada de fragmentación y desconexión. Frecuentemente Friedlander incluye su propia sombra o reflexiones en las imágenes que indican su percepción de sí mismo representado como una parte integral de la sociedad, en lugar de ser un observador invisible.
His photography has been mainly concerned with urban "social landscapes", with a special focus on modern life that is fraught with fragmentation and detachment. Friedlander's frequent inclusion of his own shadow or reflections in the images hints at his perception of himself as an integral part of the society depicted, as opposed to being an invisible observer.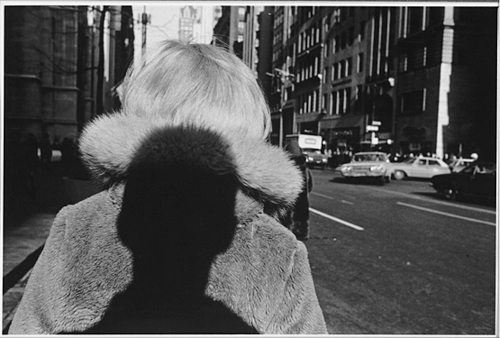 "Me fascina que haya una variedad de sensaciones sobre lo que yo hago. No soy un fotógrafo premeditado. 'Veo' una fotografía y la hago. Si tuviera la ocasión, estaría disparando a todas horas. No tienes que ir a buscar fotografías. El material es generoso. Sales y las imágenes te buscan a  cada paso." Lee Friedlander
"It fascinates me that there is a variety of feeling about what I do. I'm not a premeditative photographer. I see a picture and I make it. If I had a chance, I'd be out shooting all the time. You don't have to go looking for pictures. The material is generous. You go out and the pictures are staring at you." Lee Friedlander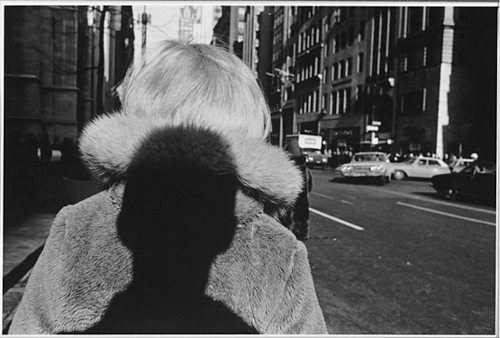 «Una vez leí sobre un arquero Zen que miró a un conejo corriendo, le dio la espalda, disparó una flecha, y golpeó el conejo. Sospecho que un poco de eso es cierto con la fotografía. «Lee Friedlander
"I once read about a Zen archer that looked at a rabbit running, turned his back, fired an arrow, and hit the rabbit. I suspect a little of that is true with photography." Lee Friedlander
«No sé lo que hago. Sé que estoy más interesado en el tema que en mi idea al respecto. «Lee Friedlander
"I don't know what I do. I know I am more interested in the subject than my idea about it." Lee Friedlander


«Si eres un pintor o un escritor, puedes volver y rehacer algo. Con la fotografía, puedes volver y probar pero probablemente va a ser diferente, ya que sólo dispones de un disparo, un centésima de segundo. «Lee Friedlander
"If you are a painter or a writer, you can go back and redo something. With photography, you can go back and try but it is probably going to be different because you only get that one shot, that hundredth of a second." Lee Friedlander
Nacido en 1928 en el barrio obrero de Bronx, Nueva York, Winogrand fue presentado con el ambiente perfecto para grabar la vida de la ciudad, más tarde se mudó a Manhattan, donde trabajó como fotógrafo independiente y fotoperiodista para varias revistas a lo largo de la década de 1950.
Born in 1928 in the working-class area of Bronx, New York, Winogrand was presented with the perfect environment to record the life of the city, later moving to Manhattan, where he worked as a freelance photographer and photojournalist for several magazines throughout the 1950s.
Sus principales influencias fueron Walker Evans, que retrató la vida estadounidense, sin ningún intento de embellecer las pésimas condiciones de los años durante la depresión y Robert Frank, un contemporáneo de Winogrand, que reveló despiadadamente las muchas capas de segregaciones raciales y de clase que estaban detrás de los glamorosos años 50.
His major influences were Walker Evans, who portrayed the American life with no attempt to beautify the dire conditions of the years during the depression and Robert Frank, Winogrand's contemporary, who relentlessly disclosed the many layers of racial and class segregations that lay behind the glamorous 50s.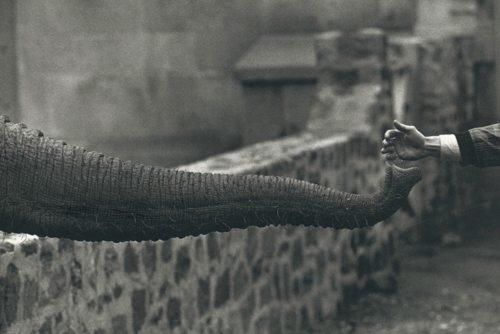 En su 1963 solicitud de la Beca Guggenheim, Garry Winogrand escribió lo siguiente:
In his 1963 application for the Guggenheim Fellowships, Garry Winogrand wrote the following:
«Miro las fotografías que he hecho hasta ahora, y me hacen sentir que lo que somos y lo que sentimos y lo que va a ser de nosotros simplemente no importa. Nuestras aspiraciones y éxitos han sido baratos y mezquinos. He leído los periódicos, los columnistas, algunos libros, miro algunas revistas (nuestra prensa). Todos ellos tratan de ilusiones y fantasías. Sólo puedo concluir que hemos perdido nosotros mismos, y que la bomba pueda terminar el trabajo de manera permanente, y que simplemente no importa, no hemos amado la vida … No puedo aceptar mis conclusiones, y por lo tanto debo seguir con esta investigación fotográfica y más allá y más adentro. Este es mi proyecto.»
"I look at the pictures I have done up to now, and they make me feel that who we are and how we feel and what is to become of us just doesn't matter. Our aspirations and successes have been cheap and petty. I read the newspapers, the columnists, some books, I look at some magazines (our press). They all deal in illusions and fantasies. I can only conclude that we have lost ourselves, and that the bomb may finish the job permanently, and it just doesn't matter, we have not loved life … I cannot accept my conclusions, and so I must continue this photographic investigation further and deeper. This is my project."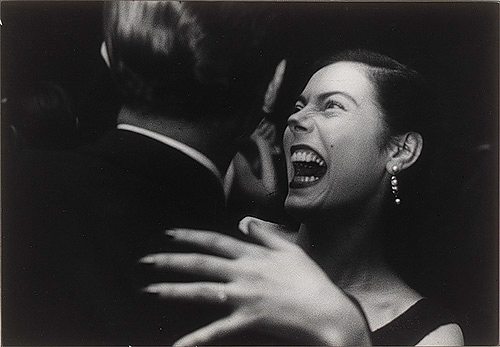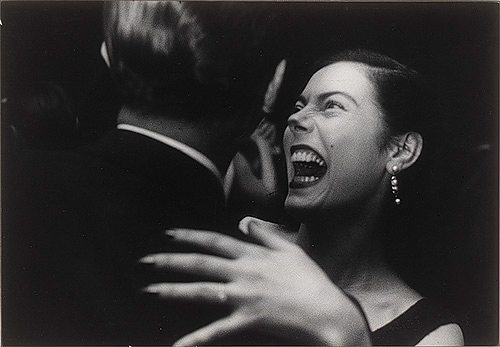 Fue galardonado con la beca al año siguiente, lo que hizo posible que él viajase a través de América documentando la edad, ya que se le presentó a él y a su cámara. Algunas de estas fotografías se exponían en la muestra Nuevos documentos.
He was awarded the fellowship the following year, which made it possible for him to travel through America documenting the age as it presented itself to him and his camera. Some of these photos featured in the New Documents exhibition.
Era un fotógrafo extremadamente productivo, que prefería estar en la calle disparando en vez de revelar sus películas, o incluso verlas en sus últimos años, dejando atrás unas 300.000 imágenes sin revelar.
Winogrand was an extremely prolific photographer, who preferred being out in the streets and photographing to developing his films, or even looking at them in his later years, leaving behind some 300,000 undeveloped images.
Mediante el uso de un Leica de 35 mm, formato pequeño, con un objetivo gran angular, Winogrand fue capaz de acercarse a sus sujetos en el paisaje urbano, donde, como Tod Papageorge narra, en lugar de buscar el momento decisivo de Cartier Bresson, tomó muchas fotos en rápida sucesión, ya que consideraba la fotografía como un proceso continuo en el que cualquier momento podría potencialmente ofrecer una fotografía llamativa.
By using a small-format, 35 mm Leica with a wide-angle lens, Winogrand was able to get close to his subjects in the urban landscape, where, as Tod Papageorge narrates it, instead of searching for the Bressonian decisive moment, he took many pictures in quick succession, since he regarded photography as a continuous process in which any moment could potentially deliver a striking photograph.  
Winogrand afirmó que una imagen sólo existía en el presente; que representa un instante del pasado, pero no cuenta nada, simplemente se queda congelada en un momento.
Winogrand claimed that an image only existed in the present; it depicted an instant from the past but did not narrate anything, it merely froze a moment.
Murió en 1984 de cáncer de vesícula biliar a la edad de 56.
He died in 1984 of gallbladder cancer at the age of 56.

«No tengo mensajes en mis imágenes…El verdadero negocio de la fotografía es captar un poco de la realidad (sea lo que sea) en la película.»- Garry Winogrand
» I don't have messages in my pictures…The true business of photography is to capture a bit of reality (whatever that is) on film.» Garry Winogrand

"Si veía algo a través de mi visor que me resultaba familiar, hacía algo para cambiarlo." Garry Winogrand
"If I saw something in my viewfinder that looked familiar to me, I would do something to shake it up." Garry Winogrand

«Los fotógrafos confunden la emoción que sintieron al tomar una fotografía con el hecho de que esa fotografía sea buena» – Garry Winogrand
«Photographers mistake the emotion they feel while taking the picture as judgment that the photograph is good.» Garry Winogrand
"No tengo mensajes en mis imágenes…El verdadero negocio de la fotografía es captar un poco de la realidad (sea lo que sea) en la película."  Garry Winogrand
"I don't have messages in my pictures…The true business of photography is to capture a bit of reality (whatever that is) on film." Garry Winogrand